Why we don't expect a more hawkish Bank of England next month
We have had some noticeably hawkish comments from Bank of England officials over the past few weeks. But with Covid-19 presenting a more uncertain short-term outlook and markets already forecasting reasonable tightening over the next two years, we don't expect any firmer clues about future rate hikes, or an early end to the market. QE, at the next meeting.
Will the Bank of England be more hawkish at its next meeting on August 5?
This is a question that has arisen in the wake of unexpectedly hawkish comments from committee members over the past few weeks. Gertjan Vlieghe, an outgoing MPC "external" voter, recently raised the possibility of a rate hike in 2022, while his colleague Michael Saunders went further by suggesting that the current QE buying program should be liquidated more early. Both were among those advocating the possible use of negative interest rates only a few months ago.
These hawkish comments were accompanied by another upside surprise for inflation. The headline CPI is now 2.5%, and this most recent rise can only be partly explained by rising energy prices and lingering supply chain problems. We saw a noticeable increase in the cost of various consumer services after the reopening, which was also accompanied by a rebound in clothing prices after strong lockdown discounts.
Last summer's tax changes and restaurant subsidies mean that next readings will be volatile, but the main story is that inflation could now peak at nearly 3.5% later this year / early in the year. 'next year.
Cumulative change in certain price categories in the UK since January 2020 (%)
Despite all of this, we wouldn't bet the Bank of England would change its tone at the August meeting – or change its quantitative easing schedule.
While the Bank's recent tone can be characterized as fairly optimistic, the committee as a whole has chosen not to send strong hints about the timing of a future tightening in its statements. Indeed, policymakers drew on the Fed's recent game plan by signaling that "significant" progress is needed before the stimulus measures are removed.
The increase in Covid-19 cases and the associated disruption it causes means the Bank is unlikely to materially alter this message just yet. Admittedly, the direct impact on GDP of the third wave will be much less than that of spring 2020 and the recent winter. A return to widespread business closures or some form of foreclosure seems unlikely, although the tail risk is still there. The point at which hospitalizations will peak remains very uncertain.
Even without further restrictions, growing staff shortages due to widespread self-isolation pose a short-term challenge for various industries. And more importantly, the high risk of being 'pinged' and the increasing chances of catching the virus mean people are more likely to 'go with their feet' when it comes to socializing in the summer. .
There's already evidence of this in high-frequency data, which, from Google's mobility to card spending, appears to have declined recent highs in recent weeks.
The number of people isolated is now expected to exceed 1 million every week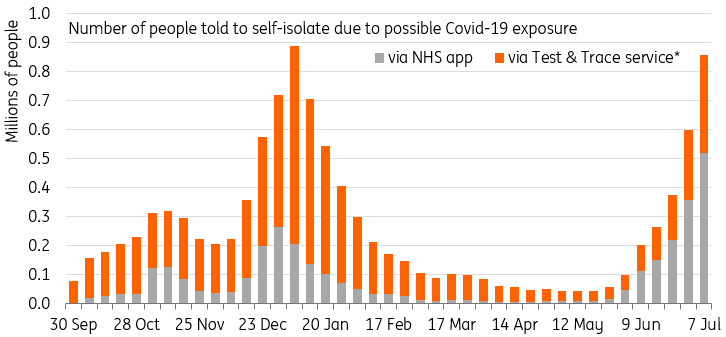 It is worth saying that none of this is likely to justify a more conciliatory turn by the bank. Many of the current issues with Covid-19 are seen to be largely short-term, not least because the number of people "fully vaccinated" is expected to increase over the next few months, while self-isolation rules are expected to increase. be relaxed from mid-August.
But the current rise in cases is a reminder that a) the recovery process is unlikely to be smooth and b) the return to pre-virus levels may turn out to be a bit more gradual than the Bank of England does. planned.
Indeed, we recently reduced our growth forecast for the third quarter from 2% to 1.5%, with monthly GDP growth rates in July and August likely to average around 0.3% (September should in theory get a little education boost).
Separately, we suspect that policymakers are also probably quite comfortable with what investors are currently valuing, and if anything, the market can get a bit ahead of itself. The first "partial" 15bp hike took place around this time next year.
In the past, when the BoE raised the chances of a tightening, for example in the summer of 2017, it was because market prices were significantly at odds with what policymakers expect to do. The same is unlikely now.
Markets expect around two increases (15bp + 25bp) by mid-2023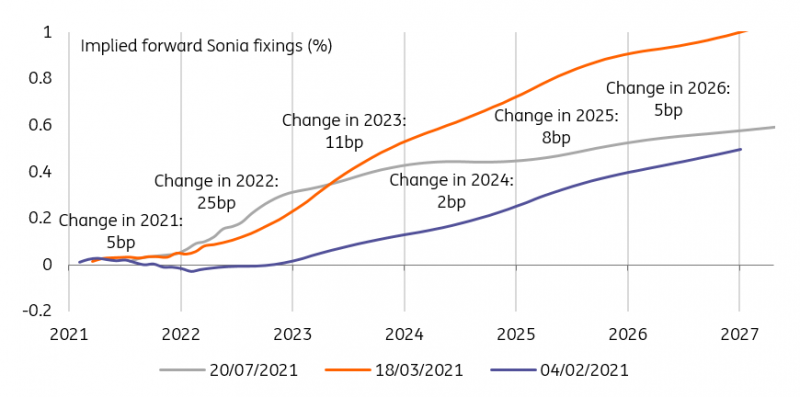 On quantitative easing, we'll likely see committee member Saunders vote in favor of an early end of the Bank's asset purchases at the August meeting. This would follow a similar vote by outgoing chief economist Haldane in June, where he preferred to cut the stock of purchases by £ 50bn, meaning in effect the Bank would stop expanding its balance sheet a few months earlier than expected (end of the year).
However, we doubt that many other members of the MPC will support such a call. Comments this week from Jonathan Haskel and Catherine Mann (the latter taking office in September), both signaled that they remain firmly in the conciliatory camp. And while the decision to end asset purchases early probably wouldn't make a huge difference to the economic outlook anyway, it has the potential to set a precedent for future rounds of quantitative easing. The "announcement effect" of future "bold" policy steps can be mitigated if investors take into account the possibility that the stimulus will be removed sooner than expected.
Our expectations from the Bank of England
While the peak of Covid-19 will put the recovery on hold, there is no doubt that the economy is in a much better position than it was just a few months ago. More stimulus therefore seems unlikely.
But we also believe that the next rise in inflation will subside until the middle of next year. And despite discussions of staff shortages over the past few weeks, we believe many of the root causes are likely to be temporary, meaning it's too early to say we're entering a period of growth. wages above target.
The fiscal policy momentum also appears to be weakening over the next few months with the end of various government programs, which likely means the recovery process could slow down once reopenings have passed and the constraints of Covid-19 are in place. largely removed (as far as possible during the winter months).
For now, we anticipate the first rate hike in early 2023, but could consider bringing it forward to the end of 2022 if the recovery starts to prove more vigorous – for example if households offload the hike. savings accumulated during the pandemic faster.
Read the original analysis: UK: why we don't expect a more hawkish Bank of England next month